It's been an extremely busy week. Between working nights, sleeping days, 4th of July and ball tournaments for my girls I've been a real slacker on getting on keeping up with my blog. I'm still adjusting to working night shift. Most of the nurses take smoke breaks during the evening and since I'm not a smoker I'm able to take 30 minutes and go down to the gym and get a good workout in sometime during the evening, as long as the floor is covered. I've been bringing food from home and of course the Xyngular, which I am loving!! I lost 14 pounds during the 8 day challenge and feel amazing. A couple gals at work are doing it with me now. I gave them some Xyng capsules because they were getting so tired in the evening and after that night they were hooked.
My obstacles this week:
My husband works at the sale barn part time and every 4th of July they do their Christmas party. Their sale barn is right under the highway where the city shoots off fireworks and it's quite a view. We all get together in the parking lot and shoot off our own fireworks and wait for the evening show. Needless to say, everyone brings a covered dish and the sale barn provides the burgers and hot dogs. It's a huge buffet of food that is there for anyone to piece on all evening long. When it's all said and done they break out the desserts and homemade ice cream. I tried my best to stick to fruit and salads, but I did break down and had a bowl of homemade ice cream. I only get it one time a year and just couldn't resist.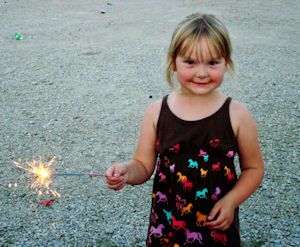 2nd obstacle is the ball tournaments. We're constantly running with ball games and the problem with that is that we're never home and that usually means picking up something to eat on the go. It's a lot of eating on the run. I'm doing my best with bringing fruit along in the cooler and plenty of water and gatorade for the girls. One advantage/disadvantage is the heat. Can you say "HOT"! These temperatures are almost unbearable and my poor girls are just trying to stay cool enough to avoid a heat stroke. Why do they have games in the hottest part of the day? I wouldn't mind waiting for the sun to go down and have games all evening long. It would be so much better for the girls. The sad thing is some teams have to play 2 or 3 games right after each other in this heat and they're exhausted. We've been pretty fortunate and haven't had to do that. The thing with the heat is it helps me get in tons of water and I just don't feel like eating anything.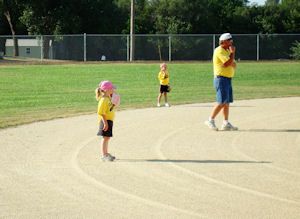 3rd obstacle is just working nights. It's true that at nights at work I can get so exhausted and it makes me want to eat so that I don't fall asleep. I love my job but it's not the best for my health. When you go from working nights and trying to get your sleep pattern to adjust for your days off, the body has a hard time adjusting. I haven't been working nights long, but I'm slowly getting used to my new schedule and I really believe that Xyngular is helping with the energy and I'm sleeping so much better in the morning. I transitioned much easier this go around to my days off then I did last time.
It's been a pretty successful week and I'm slowly learning what's working for me and what's not working. I hope that when things slow down a little bit I can take more time for me and do some more blogging. I hope everyone had a wonderful 4th of July and are staying cool!!