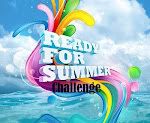 Day 1: Weight 272.4

Today is the first official day of the challenge. We were asked to take our ultimate goals and break them down to small bite-sized goals. So this week:
Weight Loss: My ultimate goal is to lose 20 pounds, which would mean that I need to lose at least 2 pounds this week.
My Non-scale Victory (NSV): My ultimate goal is to fit into my size 18 jeans. The best way to meet this weekly goal is to follow the exercise and nutrition weekly goals. I did see some other challengers put in some Spring Cleaning on their weekly challenge and I thought that was brilliant….so I'm going to put that I will clean out and organize my hall closet. That's if I can get the door open, it's stuffed full of junk.
Exercise:
I'm training for a 5k, which I signed up for on July 1. I need to start training for this, and plan on following the Women's Health Magazine Running Calendar. I plan on doing week 1 of the calendar, which is
clickable here
or is under my workout tab above.
Nutrition:
I was figuring last night, which I did see some of my fellow challengers doing the same thing, how many calories I would need to consume, and how many calories I would need to burn in order to lose 2lbs for the week. I figured if I ate 1300 calories a day and burned 330, which is 2310 calories in a week that I should lose 2 pounds. I plan on keeping track of this on
Myfitnesspal.com
. I also said that I would drink 120 ounces of water a day, what was I thinking? Right now I'm going to concentrate on drinking 96 ounces a day.
We also have a
mini challenge
to try a new vegetable, fruit or other healthy dish that we have never had before. This should be fun. I'll have to go and look through some recipes or scout out the grocery store for something interesting to try.
Well, those are my weekly goals for the
Ready for Summer Challenge
. I look forward to checking in with everyone to see how you are doing. Right now I better get out and do Day 1 of my exercises. I'll be back tonight with my daily update. Good Luck everyone and we're going to Rock this challenge!