I can't believe it's been close to a year since I've posted on this blog. Wow, how time flies! I have to admit that I haven't lost any weight since my last post, and I know that I'm even more out of shape. What have I been up to, you ask?
Let's see. I passed my state boards and I'm currently an LPN working at the local hospital. I'm going to school to finish my nursing degree and plan on graduating in May, then it's one more big test (RN state boards) and then I'll be done with school for awhile. So the past year I've been spending a majority of my time doing this….
Now that Spring is here and Summer is right around the corner I figured what a great time to concentrate on getting healthy. I still want to learn to run a 5k and I'm the first to admit that I'm a huge procrastinator and I need something to motivate me to keep up the training. A friend of mine told me about a 5k run that is coming up July 1 and it peaked my interest. It's the Color Run and you can walk or run. Every Kilometer they throw some sort of colored powder substance at you as you run by. It's a different color for each Kilometer you run. It sounds like a lot of fun, so I signed up. I figured this will be enough time to lose some weight and eventually run my first 5k. I have my work cut out for me, but plan on using this blog to keep me accountable in meeting my goals. Here's the website for the
Color Run
if anyone else is interested.
While losing weight you need that accountability and there's no better way to get it then by joining a challenge. I found the Ready for Summer Challenge while surfing the web and knew this was exactly what I needed. It's 10 weeks long and starts March 26. It's a challenge where you set your own goals....How cool is that? Check it out below and join with me so we can keep each other accountable.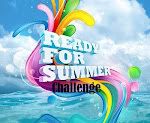 Challenge Goals:
Weight Loss~
I would love to lose at least 20 Pounds by the end of the challenge.
NSV~
My non-scale victory would have to be to fit in my size 18 jeans.
Exercise~
Be able to run a 5k, which is scheduled for July 1.
Nutrition~
Keep my calories between 1200-1500 calories and drink 120 oz of water daily.
I'm so happy to be blogging again and looking forward to catching up with all of my fellow bloggers. Good luck and let's make the rest of this year count!